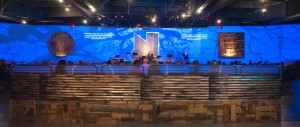 Technology has made the transformation of a worship sanctuary possible with the relatively new art of Environmental Projection, better known in the AV world as EP. For some churches, this is a completely new concept. If you haven't ever heard of EP or, if you're in the infant stages of running EP at your church, the series of articles we will post over the next few weeks aims at assisting you with setup options for every budget, from small to mega church.
Today we are going to focus on what EP is and how it's used. Over the next few weeks we will go over different options for different sizes of churches to help you tailor a budget to fit your needs. So first things first, let's take a look at the definition of Environmental Projection: Environmental Projection (EP) is the act of creating a visually immersive worship environment that ushers the intimate and powerful role of visuals, art, and media back into our modern worship spaces.
Through the use of the projectors that project backgrounds on the front or sides of a worship room, churches use EP to transform their sanctuaries into cathedrals, forests, and even outer-space.
It's important to note that in order to run EP, Churches must have at least one dedicated projector and a dedicated computer running presentation software capable of EP.
EP is creative way to achieve a look that you may more typically use intelligent lighting for, but it is not a substitute for proper stage lighting. It is a good way to extend the look of your stage out into the room but it is not going to have the same kind of vibrant punch you'll get from a small image projected onto a screen. The idea is that it complements the main screens but it certainly does not replace them.
Now that you understand the basics of what EP is you are prepared to dive in. See below for the blog schedule over this topic
* 7/10 The four necessary "ingredents" for EP
*7/17 The budget
* 7/31 Media and Training
In the meantime, as always if you have any questions or need some creative AV solutions for your House of Worship, Corporate facility, school, office give us a call and we will be glad to help you out!
---